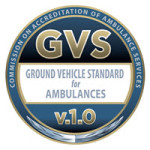 CAAS holds seventh Ground Vehicle Standards meeting to develop consensus based ground ambulance vehicle standards. The meeting is being held February 27 at the Baltimore Marriott Harbor at Camden Yards in Baltimore, Maryland. The meeting takes place from 8:00 am – 4:00 pm (Eastern time). Those interested in participating can also listen in via teleconference.

Commission on Accreditation of Ambulance Services
CAAS GVS-2015 Committee Meeting #7 Agenda
Baltimore Marriott Harbor at Camden Yards
110 South Eutaw Street
Baltimore, MD
Meeting Room: Stadium 1 & 2
Friday, February 27, 2015    8:00 AM to 4:00 PM   (Eastern Time)

A Conference Line will be available.